Do Dham Yatra

Kedarnath Temple
Badrinath Temple
The Chardham of Uttarakhand is the most revered pilgrimages of Hindu religion that covers Yamnotri, Gangotri, Kedarnath and Badrinath. The two most important Dham are Kedarnathji and Badrinathji. These two revered sites are located in the Garhwal region of Uttarakhand. And, while you are planning to visit Do Dham, we offer you this Pilgrimage without undergoing the pain of travelling hazardous roads and trekking, which takes out the thrill and entire pleasure of doing a pilgrimage. A Do Dham pilgrimage tour with RD Group Heli & Charters covers in the comfort of helicopters making it very convenient, safe and comfortable. You are safe guarded against the constant threat of landslides which will setback your schedule.
We have now completely changed the whole perspective of Do Dham pilgrimage, starting from Dehradun (Sahastradhara) and ending the same evening, which otherwise takes 10-12 days by road transport and trekking to the revered shrine. We offer local transport, VIP darshan at the both the shrines. All you have to decide a date and reach Dehradun, and we will take care of the rest.?
Our helicopters are state of art machines with luxury interiors. All our pilots operating this tour are ex defence personnel, well versed with the aerial route and highly experienced in hill flying and have logged more than 5000 hours of flying time.
We will like to welcome you, your family and friends on this holy pilgrimage of a lifetime.
DETAILED ITINERARY
Day 01: Dehradun –Kedarnath– Badrinath – Dehradun
Leave Dehradun: 7:00 AM
Arrive Kedarnath: 8:00 AM
Leave Kedarnath: 10:00 AM
Arrive Badrinath: 11:00 AM
Leave Badrinath: 14:30 AM
Arrive Dehradun: 15:30 AM
Reach Sahastradhara helipad and board your helicopter for your flight to Kedarnath. Due to Government regulation, you will have to change helicopter at Guptkashi.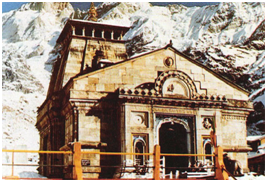 Kedarnath temple is located at (3584 metres). Upon arrival our representative will escort you toKedarnath temple.We will offer VIP darshan slips at Kedarnath temple so our passengers can avoid the long queue and finish darshan quickly. The cost for these slips is Rs 1100 per person but it is included in our package.
KEDARNATH TEMPLE: The present temple built in 8th Century A.D. by Adi Guru Shankaracharya lies adjacent to the site of an ancient temple built by Pandavas. The temple has a conical lingam - the main idol, a statue of Nandi - the celestial bull, a 'Garba Grah' for worship and a man dap for assemblies of pilgrims and visitors.
Board your helicopter to fly to Badrinath. Upon reaching Badrinath helipad, drive a short distance to the shrine.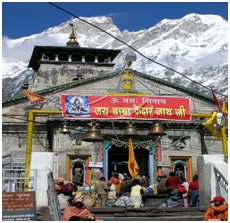 BADRINATH TEMPLE: Cradled in the twin mountain ranges of Nar and Narayan is the holiest of the four main shrines - Badrinath situated along the left bank of river Alaknanda with the towering Neelkantha Peaks as the splendid backdrop. Legend has it, when the Ganga was requested to descend to earth to help suffering humanity; the earth was unable to withstand the force of its decent. Therefore the mighty Ganga was split into 12 holy channels. Alaknanda was one of them that later became the abode of Lord Vishnu or Badrinath.
After darshan proceed for lunch at Sarovar Portico hotel. After lunch leave for helipad to board flight to Dehradun.
End of Do Dham Yatra
Total cost of the charter will be Rs. 4.5 lacs upto 5 passangers.
90000/- Per passanger inclusive taxes
TERMS AND CONDITIONS
The charter can carry a maximum of 4 passengers
This price is inclusive of service tax
This price includes the cost of VIP darshan
Night stay will attract extra charge
The booking has to be done in advance with a deposit of 50% of the charter amount.
Full charter amount has to be deposited before the start of journey
In case the journey is not finished within the stipulated time and passengers are not able to visit one or more Dhams due to bad weather conditions/technical reasons then the liability of the company will be limited to refund of unutilised sector/s.
Rescheduling of booking to a next date will be done subject to availability and on payment of 10% of the cost. This will be permitted only if applied 7 days before journey date.In case the rescheduling is requested with less than 7 days to the journey then booking will be treated as cancelled and a fresh booking will be given subject to availability.
If passengers wish to cancel their booking then they will have to pay following cancellation charges
Upto 7 days before journey ---- 20% of charter amount
Upto 48 hours before journey ---- 50 % of charter amount
Less than 48 hours before journey ---- 75% of charter amount
Less than 24 hours before journey ---- NO REFUND