1 Night Chardham

Yamnotri Temple Gangotri Temple Kedarnath Temple Badrinath Temple
We have now completely changed the whole perspective of Chardham pilgrimage, starting from Dehradun (Sahastradhara) on day 01 and ending on day 02, which otherwise takes 10-12 days by road transport and trekking to the revered shrines. We offer 01 night hotel accommodation in a twin share room at Gangotri (Harsil), daily breakfast, lunch and dinner. (Keeping in respect the pilgrim tradition, all meals are Vegetarian during the sojourn), local transport, VIP darshan at the shrines, palkis, special puja samagri packet. All you have to decide a date and reach Dehradun, and we will take care of the rest.
Our helicopters are state of art machines with luxury interiors. All our pilots operating this tour are ex defence personnel, well versed with the aerial route and highly experienced in hill flying and have logged more than 5000 hours of flying time.
We will like to welcome you, your family and friends on this holy pilgrimage of a lifetime.
DETAILED ITINERARY
Day 01: Dehradun – Yamunotri
Leave Sahastradhara helipad: 0700 AM
Arrive Kharsali helipad: 0745 AM Reach our helipad on Sahastradhara Road and board your helicopter for Yamunotri. This is your first destination of the revered yatra. Our pilots and ground staff will brief the passengers about the entire trip and do's and don'ts.
Upon arrival at Kharsali (The helipad for Yamunotri) you are welcomed by the staff will assist you to your palkis that will carry you to Yamunotri temple. This trek from helipad to temple is 5.5 kms and return trip by Palki takes 5.5 hours. Collect your puja samagri basket from HA representative at the helipad and visit Yamunotri temple.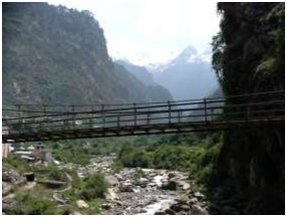 YAMUNOTRI TEMPLE: Maharani Gularia of Jaipur built theYamunotri temple in the 19th Century. It was destroyed twice in the present century and rebuilt again. At Surya Kund there are number of thermal springs, the most important of these is Surya Kund. Divya Shila is a rock pillar worshipped before entering the Yamunotri Temple.
Return to Kharsali helipad and board helicopter for flight to Gangotri.
Leave Kharsali: 13:30 hrs

Arrive Harsil: 14:00 hrs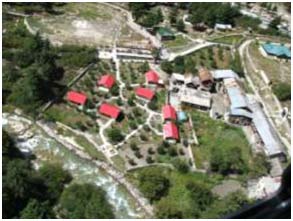 Upon arrival at Harsil helipad, you will be received by the staff who will off load your luggage and take them to your resort- Himalayan Nature Resort which is just 2kms from the helipad. After lunch at the resort, leave by cars for Gangotri Temple, which is 24kms from the resort and the drive will take 45min to 1 hour depending on traffic. We will offer Innova/Xylo car for this drive. You will return to the resort in the evening after darshan. Your stay in Harsil will be most memorable as this resort is set in middle of apple orchards surrounded by snow clad mountains on all sides with a river flowing inside the resort.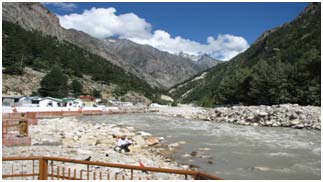 Gangotri Temple: This is a 18th Century templededicated to Goddess Ganga. It is located near a sacred stone where king Bhagirathi worshipped Lord Shiva Ganga is believed to have touched earth at this spot. Accordingly to another legend, Pandavas performed the great "Deva Yagna" here to atone the death of their kinsmen in the epic battle of Mahabharata. The temple is an exquisite 20 ft. high structure made of white granite. Gangotri Temple, which was constructed by the Gorkha General Amar Singh Thapa in the 18th Century, is situated on the right bank of Bhagirathi. Return to your resort for lunch. Enjoy a bonfire next to the river which flows from inside the resort.
Dinner and overnight is at resort.
Day 02: Harsil – Kedarnath – Badrinath – Dehradun
Leave Harsil: 7:00 AM
Arrive Kedarnath: 8:00 AM
After an early breakfast at the resort you will fly to Kedarnath. Due to Government regulation, you will have to change helicopter at Guptkashi.
Upon arrival at Kedarnath, you will be met by HA ground personnel, who will escort you to the holy shrine. We will offer VIP darshan slips at Kedarnath temple so our passengers can avoid the long queue and finish darshan quickly. The cost for these slips is Rs 1100 per person but it is included in our package.
KEDARNATH TEMPLE: The present temple built in 8thCentury A.D. by Adi Guru Shankaracharya lies adjacent to the site of an ancient temple built by Pandavas. The temple has a conical lingam - the main idol, a statue of Nandi - the celestial bull, a 'Garba Grah' for worship and a man dap for assemblies of pilgrims and visitors.
After darshan return to the helipad board your helicopter to fly to Badrinath, the 4th Dham of your Char Dham Yatra.
Leave Kedarnath: 10:00 AM
Arrive Badrinath: 11:00 AM
BEST SEASON: The best season to avail the yatra on helicopter is May –June and September-October. We do not operate during July-August months due to rainy season
The total cost of this package is Rs 6.8 lacs inclusive of service tax.

TERMS AND CONDITIONS
The charter can carry a maximum of 4 passengers
This price is inclusive of service tax
This price includes the cost of vehicle at Harsil and Badrinath
This price includes the cost of night stay of passengers at Harsil on twin sharing basis.
02 lunches, 01 dinner and 01 breakfast with a bottle of mineral water per person with each meal
This price includes assistance in darshan at all temples. Any special puja charges will have to be paid directly by passengers.
Any additional night stay will attract extra charge
The booking has to be done in advance with a deposit of 50% of the charter amount.
Full charter amount has to be deposited before the start of journey
In case the journey is not finished within the stipulated time and passengers are not able to visit one or more Dhams due to bad weather conditions/technical reasons then the liability of the company will be limited to refund of unutilised sector/s.
Rescheduling of booking to a next date will be done subject to availability and on payment of 10% of the cost. This will be permitted only if applied 7 days before journey date. In case the rescheduling is requested with less than 7 days to the journey then booking will be treated as cancelled and a fresh booking will be given subject to availability.
If passengers wish to cancel their booking then they will have to pay following cancellation charges